2023 Women in Leadership Merch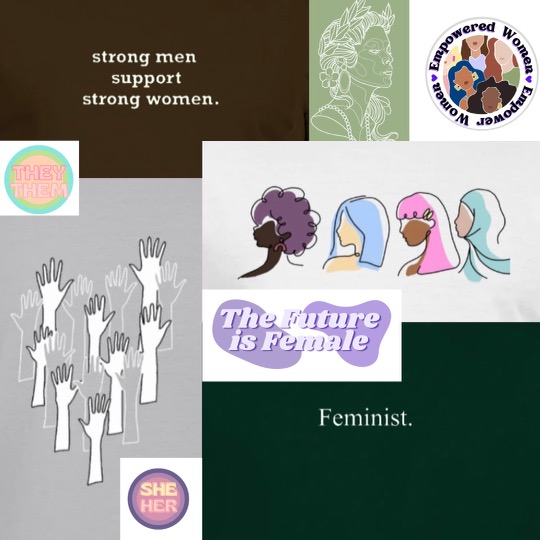 On March 15, the MTHS Women in Leadership club launched this year's merchandise collection. An annual sale, the launch consists of T-shirts, sweatshirts, stickers, buttons and even tote bags. Items are available for purchase until Thursday, March 30 here.
These merch sales have been going on since the beginning of the creation of the club, according to merch coordinator and junior Alicia Blanco. "It really portrays our message," Blanco said. 
All the apparel is under $30, the sizes range from XS to 5X, and the entire collection consists of messages spreading feminism and inclusivity. 
Blanco emphasized that the club added stickers to the sale this year. "I feel like it caters to everyone," they said.
Blanco said the process starts from the first club meeting at the beginning of the school year. They admitted that merch was released slightly later than anticipated this year, but that it truly depends on the creative process. Blanco said they just have to be "sparked by an idea."
"Everything is very much a democracy," Blanco said of the club structure. They were reinstated into their role as merch coordinator after designing for the first time last school year. Blanco and senior Mitra Salari worked together as co-merch heads this year. "She is doing a lot of logistics, but also has amazing designs," Blanco said.
During their designing process, Blanco said they try to focus on things that other people will be able to relate to, as well as portraying the club's values. A lot of inspiration is drawn from Pinterest, and when something sparks an idea, Blanco turns to their school iPad and sketches with their finger in the Sketchbook app. 
"I want to try to represent as many groups of women, or just non-male identifying people, as possible," Blanco said. "Color plays an aspect too. This year, we wanted to bring earth tones into the picture." 
Most importantly, they said, was to make sure that this merchandise was something that anyone and everyone could wear.
All the profits from the merch sale and other fundraisers during the school year go into a scholarship given away by the club. Non-male identifying seniors can fill out an application for the scholarship, and the winner is then chosen by the club's leadership board. 
"Just buy your women in leadership merch. If you're a guy, still buy your merch. You can be a man and still be a feminist," Blanco urged students. For those who are looking to support the club but are unable to purchase merch, the club is hosting a forum during the school day on Friday, March 31.