This year the Blue Streaks have once again continued their legacy of football success. After going undefeated through their regular season 10-0 and winning the Lancaster-Lebanon League Section One title, MT Football went on to defeat York High last Friday with a dominating first round district playoff win 44-8.
But it hasn't been easy.
"There's no second chances," said head coach Mark Evans. "If you lose, you're out."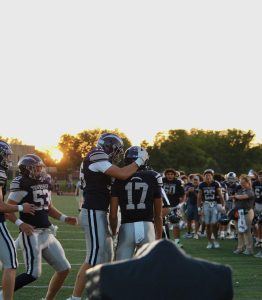 Lacking the advantageous seeding of some sports, football is played on a week by week basis. Yet with a balanced mindset, the team has been able to take advantage of the moment.
Using the acronym TOP to communicate its drive, the team is reaching for its next step to make it to the top. Combining Talent, Opportunity, and Persistence, the team has become the number one ranked team in District III 6A football. Setting records all season, they look to "PUSH" forward: to Push Until Something Happens, another team acronym.
And something has certainly been happening. In addition to the team successes, quarterback Hayden Johnson set the all-time passing TD record earlier this season and now has 44 TDs and 0 Ints on the season. Wide receiver Landon Kennel has 23 receiving TDs along with a number of other school records.
"Humble, hungry, focused and loose," are all key adjectives used by Evans when speaking of the team. He also shares of the "solid" practice week and "great" team chemistry going forward into Friday's game.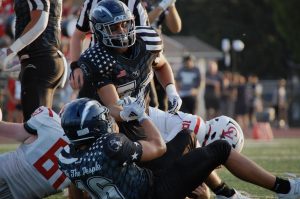 The Blue Streaks will host Cumberland Valley for second round district playoffs this Friday, Nov. 17 at 7 p.m. Tickets are $6 and only available online for district playoff games, and can be purchased here. QR codes will also be available at the entrances for anyone needing to purchase tickets at the gate. No free passes may be used for district playoff games.
According to Evans, the first 100 students in the gate Friday night will receive a complimentary Streak Nation Domination Dawg Pound t-shirt and pizza will be given to the student section in the third quarter.