Women in Leadership Hosts Their Fifth Annual Forum
This past Friday, March 31st, the Women in Leadership Club hosted their fifth annual forum in celebration of empowering and uplifting women from our school and community. 
The beginning of the forum started with a passionate acapella rendition of the musical pieces "Say Her Name" by Alysia Lee and "What Happens When a Woman"  by Alexandra Olsavsk, sung by Bella Voce, the all-female acapella group at MT. As always, the blended harmonies of their voices were strong, truly showing the power women have when they work together.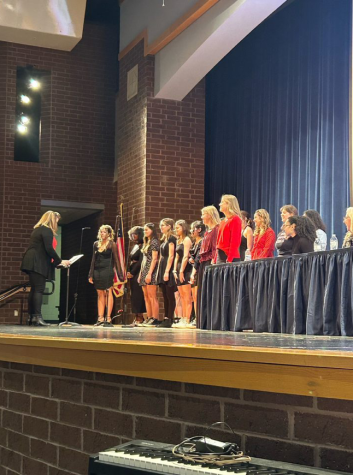 Following the two songs was a heartfelt spoken word poem performed by junior Alicia Blanco. The poem, titled "Sister," displayed the deep love and appreciation shared between them and their two sisters. Not only was the poem well-written and wonderfully performed, the people in the audience could feel the emotion in each word which started the forum on a beautiful note.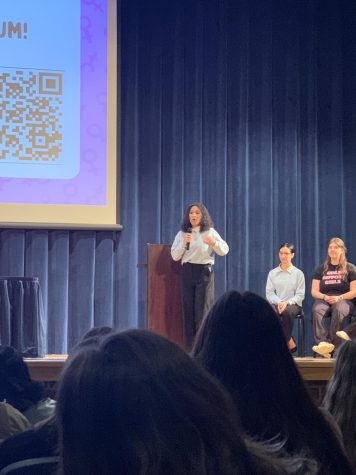 This year, all who attended had the pleasure of meeting and listening to four powerful women from Lancaster who work every day to shine in a field often dominated by men. 
The first woman introduced was Jackie Orth, who worked for The Hershey Company in accounting—although she's done more than just that. She has been involved with manufacturing, marketing, sales or wherever the company put her. After working for Hershey, Orth left to work for her husband's Sandler Training business, which led her to her current job as a direct saleswoman for a women's connection group called Polka Dot Powerhouse. 
As a woman in a male-dominated industry, Orth told of one specific time in her career that the Hershey company gave salary bumps to all female employees. Because of growing awareness of the wage gap between men and women in the workplace, many large companies began to slowly close that gap. However, the gap is still not closed. Orth explained that in America, "for every dollar a man makes, females make 83 cents." Even with salary bumps, the wage gap, although seemingly small, leads to an ongoing cycle that continues to benefit men over women in the workplace. She hopes that the future of America will close those gaps to ensure equal pay for all people, no matter who they are. 
Next was Kat Lonsdorf, a journalist for NPR. She works on the NPR daily show "All Things Considered" and does various reporting, including recent coverage in Ukraine. As a journalist, Lonsdorf views leadership as the ability to understand your faults and be content with not knowing something, but then taking time to educate yourself. 
She wants every young woman to know that there is no straight path to the future, and it's important to create your own path by approaching opportunities with a positive attitude. A large part of Lonsdorf's journey to self-discovery was being out in the world and surrounding herself with positive people. She is inspired and motivated by the future leaders who, in her words, give her hope that "we're going to be okay."
Lonsdorf hopes that even if young women feel insecure or unsure of their identity as a woman, they can still look in the mirror and see their beauty and their strength. She explained that no one ever feels completely secure all the time, but surrounding yourself with who you want to be and understanding your value is crucial to finding peace as a woman. 
Following Lonsdorf was Valerie Moul, who entered the advertising workforce when no other women were present. She worked at Godfrey Advertising for 20 years before the owner retired, leaving Moul and four men to run the company. Soon after, she became president of Godfrey Advertising and worked alongside the four men to keep the business running. She retired at age 52, but still volunteers and works with the Lancaster Airport Authority Board. 
Because of the time period that Moul entered the workforce, she experienced unexpected setbacks, simply for being a woman. When she graduated college she began working for an advertising company, and she explained that she was "the first woman they hired that was not a secretary." To move up in the company, employees submitted work for clients and, if their work was presented, they received praise. At one executive meeting, all three ideas being presented were Moul's. Moul was not able to go to the meeting because it was being held at a men's club. Her boss did not try to make adjustments for her, instead shutting her down because she was a woman. In response to this, Moul explained that she realized the company did not value her intelligence and she left. 
The final woman introduced was Aniah Washington, a spoken word artist who is a recent college graduate with a major in Black studies. She now works with the non-profit organization Atollo. Her definition of a leader is something that changes everyday. Oftentimes leadership is measured by power a person has, but she believes leadership comes with how a person is able to impact and inspire others. Washington explained that she thinks a leader is someone "who inspires other people to pursue their questions."
Throughout college she experienced moments in which she felt left out of the conversation, or her voice would not be heard because she attended a college that was once an all male school. Because the school was built for men, it felt as if there wasn't a place for her both physically and socially. Even when talking about important women's rights issues, her opinions would be left out of the conversation. Now with her career in poetry, Washington refuses to keep her voice inside and she speaks out for people of color and women. 
She said that being able to inspire comes along with "being certain of one's story." Oftentimes, the people who are seen as leaders are the ones who are confident in sharing their experiences and not being ashamed of their past. By surrounding herself with other women who share their stories, she has felt more secure in herself as a woman in a world that sometimes does not support the true power of a woman. 
This meeting would not have been possible without the leaders of the Women in Leadership club, including Twinkle Khanna, Eve Cruz, Keira O'Neal, Mitra Salari, Alicia Blanco, and many more students and teachers involved in the club.